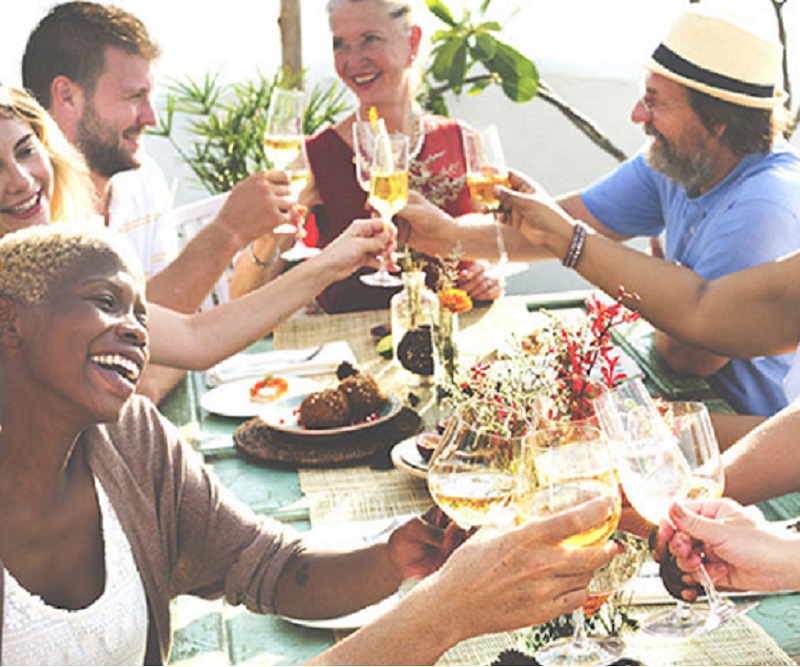 Hearing Tips for Eating Out
Our hearing tips for eating out will help you hear more easily.  Noise is the second most common complaint of diners (second only to poor service). Read our tips for eating out to enjoy more conversation:
What's the Best Seat?  Take a look around the restaurant. Choose at least 1 or 2 of our tips for eating out to improve your conversations.
The best seat puts the room noise BEHIND you.
Booths are better than tables. Small round tables better than rectangle.
Choose a table near the perimeter of the room, wall or partition
Avoid sitting in the center. It surrounds you with activity and noise.
NEVER sit near the kitchen or bar. Voices will be drowned out.
Where Will I Hear the Best?  Room acoustics matter – see what helps!
Choose smaller, more intimate places to eat.
Eat at less popular times. Less people = less noise.
Choose "softly" decorated restaurants. Look for carpeting, plants, wall hangings, booths, curtains and tablecloths. All will absorb the noise making it quieter.
Avoid "clean-line", warehouse style restaurants with tile and hardwood, large windows, high ceilings and open dining areas. All will increase background noise and bounce it around.
Finally – speak up! Use the power of your purse. Patronize the quieter restaurants! Tell owners you will send your friends to them because you can easily chat away!
As you use these tips for eating out, send me a comment about a great restaurant experience and I will spread the word!
Dr. Anita Carroll is a licensed Audiologist and owner of Hearing Solutions in the Triangle, PLLC with over 25 years of experience. Need some hearing aid tips – she can be contacted here.  If you're looking to test hearing or improve listening skills visit our online scheduling here. 
Take a moment and download Dr. Anita's 30 Day Hearing Report that will give you quick, practical ways to improve your listening and hearing skills.