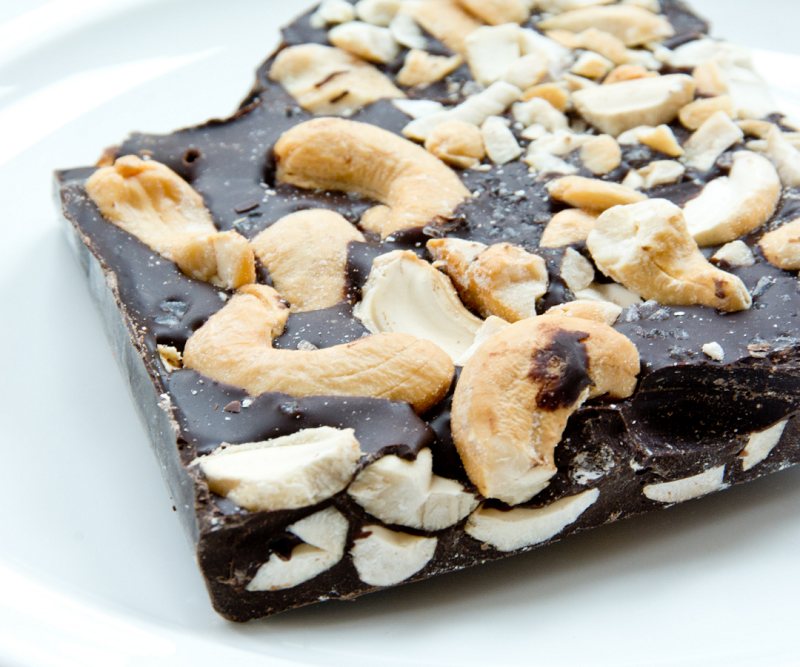 Ear-Healthy Dark Chocolate Bark
Ear-Healthy Dark Chocolate Bark
It's December and I want to share one of my favorite ear-healthy treats to make over the holidays.  Did you know that good nutrition & minerals play an important role in ear and hearing health?  Well – this is delicious AND ear-healthy so enjoy!
This recipe is full of antioxidants, magnesium, selenium, copper, zinc – all key nutrients that prevent noise-related and age-related hearing loss.  Important nutrients that fight inflammation, improve circulation and boost immunity – key components to healthy ears and hearing.
Follow the recipe below and use good-quality or organic ingredients and dark chocolate that has at least 70% cacao.
Ear-Healthy Dark Chocolate Bark Recipe:
Ingredients:
1 lb dark chocolate (at least 70% cacao)
1 Tbsp pumpkin seeds
1/2 cup finely chopped Brazil nuts
1/2 cup coarsely chopped cashews
1/2 cup coarsely chopped almonds
1 Tbsp butter or coconut oil
Himalayan or sea salt to taste
Honey (adjust to taste)
Optional add:  1/4 cup shredded coconut; 1 Tbsp sesame seeds; 1 Tbsp sunflower seeds.  Add as desired.
Directions:
Melt and mix the butter or coconut oil and dark chocolate over low heat or in the microwave. Stir frequently.
Line a baking sheet with parchment paper and spread the nuts evenly across the sheet.
Add the honey once the chocolate is melted and adjust to taste.
Slowly pour the melted chocolate over the nuts. Spread evenly over nuts with spatula.  Save some of the chocolate for later topping.
Sprinkle the rest of the ingredients over the nuts and chocolate mix.  Then spread remaining chocolate evenly over top.
Place in refrigerator to cool until solid.
Break into pieces and store in refrigerator.
Nutrition has a ripple effect on your ear health! Make hearing healthy nutrients a priority for 2022 and you will hear well as you age.
Dr. Anita Carroll is a licensed Audiologist and owner of Hearing Solutions in the Triangle, PLLC with over 25 years of experience. Need some wellness tips – she can be contacted here.  If you're looking to test hearing or improve listening skills visit our online scheduling here.