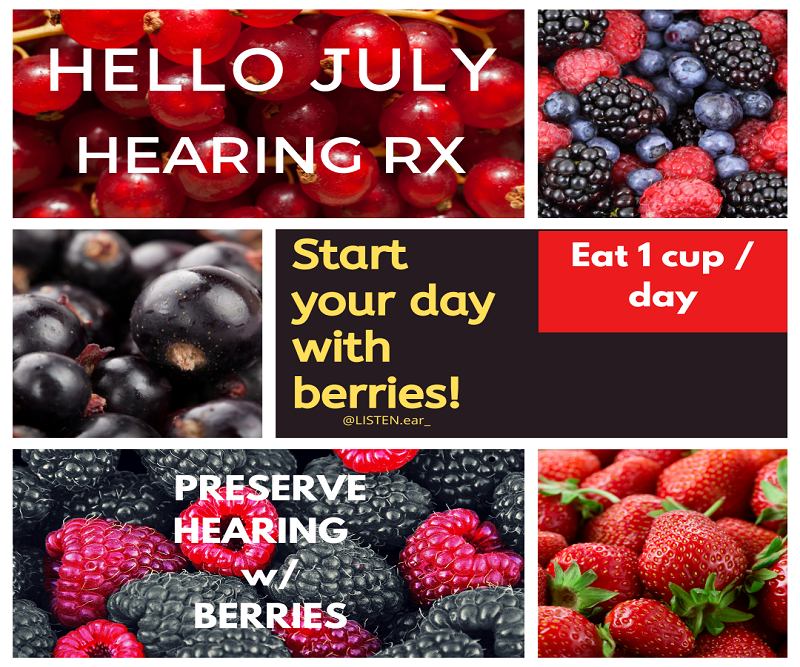 EAT MORE BERRIES
Eat more berries. Improve hearing health. Keep your hearing sharp & clear with the protective health benefits of berries. (See our Ear-Healthy Berry Crisp recipe below!)
You may be wondering why they are so good for your ears?  Take a look at the science:
> Berries enhance blood flow to your inner ear
> Berries protect inner ear cells from free radical damage that cause hearing loss
> Berries keep you mentally sharp for clear understanding
> Berries provide brain protective nutrients improving cognition & memory – so you can remember & make sense of what you hear
Say YES to eating berries every day to keep your hearing sharp! Try our delicious Berry Crisp . . .

EAR-HEALTHY BERRY CRISP
Ingredients
Berry Filling
5 cups berries, fresh or frozen – any combo of berries!
2 Tbsp cornstarch (3T if frozen berries)
1/2 cup maple syrup
1/4 tsp cinnamon
Crumble Topping
3/4 cup old fashioned oats
1/2 cup flour
1 tsp vanilla extract
1/2 tsp cinnamon
1/4 tsp nutmeg
2 Tbsp brown sugar
2 Tbsp butter
2 Tbsp olive oil
1/2 cup chopped walnuts or pistachios
Instructions
Preheat oven to 375F
Spray 8×8 square pan with olive oil cooking spray
Toss berries with cornstarch, maple syrup and cinnamon.  Pour berry mixture into pan
Melt butter. Add olive oil to melted butter & mix together.
Combine oats, flour, brown sugar, cinnamon, nutmeg & vanilla in bowl.
Add butter mixture to dry ingredients. Stir to combine into crumbly texture.
Sprinkle crumble topping evenly over the berry mixture.
Bake for 40 minutes until bubbly and topping is browned to your liking.
HEALTHY YOGURT CREMA TOPPING
1 cup plain Greek yogurt
1 tsp vanilla
Mix together until smooth.  Spoon topping onto berry crisp & enjoy!
*We are trained to keep your hearing healthy! Follow our plan and you'll be on the road to hearing wellness for 2022 and beyond!