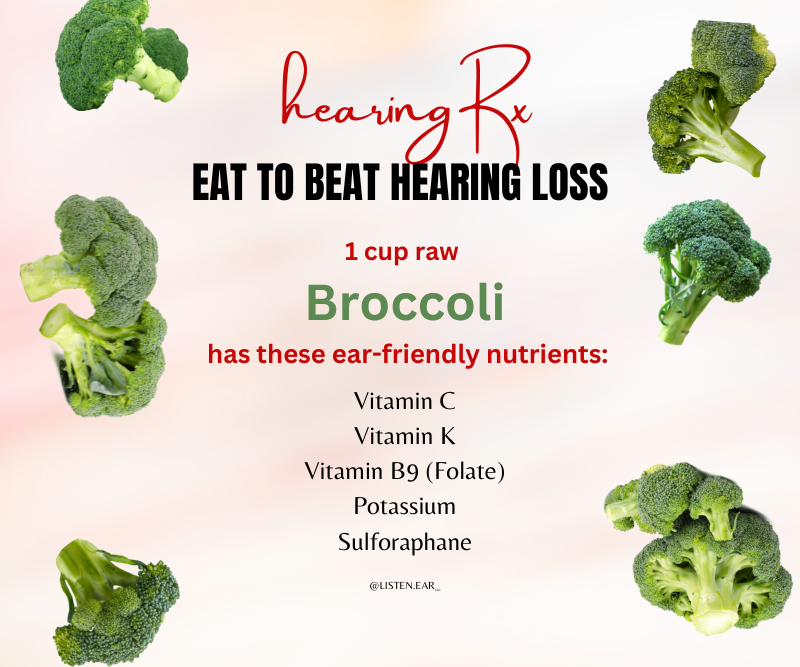 EAT TO BEAT HEARING LOSS – BROCCOLI
Our Eat to Beat Hearing Loss series teaches you the ear-friendly nutrients that are vital for your hearing! One of my favorite ear-friendly staples is roasted broccoli. Whether it's raw or cooked – either way you'll get a healthy dose of ear-friendly nutrients that also support brain function.
Broccoli is rich in the ear-friendly nutrient & disease-fighting compound sulforaphane.
Sulforaphane activates a pathway that makes antioxidants more available, reduces harmful oxidative stress in the brain, and boosts the production of brain derived neurotrophic factor (BDNF). This enhances brain cell growth and repair – including your inner ear cells!
Eating broccoli also provides two key ear-friendly flavanols that have been linked to vasodilation effects. Good circulation is vital for inner ear cell health.
So many ways to eat broccoli! Try it dipped in hummus or guacamole. I like roasting in the air-fryer with EVOO, garlic pepper and Crazy Salt on top!
Frequently include broccoli to your diet for ear health and hearing. Stay tuned for more ear-friendly nutrients with our Eat to Beat Hearing Loss series!
We are trained to keep your hearing healthy! Follow our plan and you'll be on the road to hearing wellness for 2023 and beyond!